1300 watts 2 ohms work stable 4 channel digital power amplifier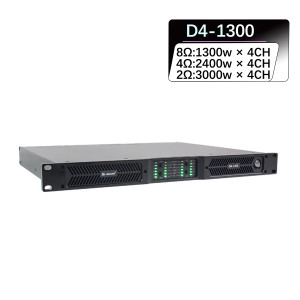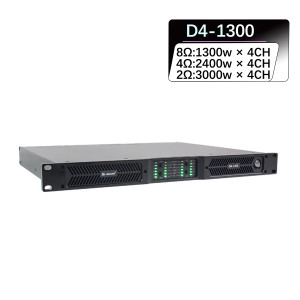 | | |
| --- | --- |
| Categories | 2 Ohms Stable Amplifier |
| Brand | Sinbosen| Audio sound system manufacturer |
| Model | D4-1300 |
| Type | class td amplifier |
| Channel | 4 channel |
| 8Ω Stereo Power (RMS) | 1300W X 4CH |
| 4Ω Stereo Power (RMS) | 3400W X 4CH |
| 2Ω Stereo Power (RMS) | 3000W X 4CH |
| Update Time | Dec 2,2023 |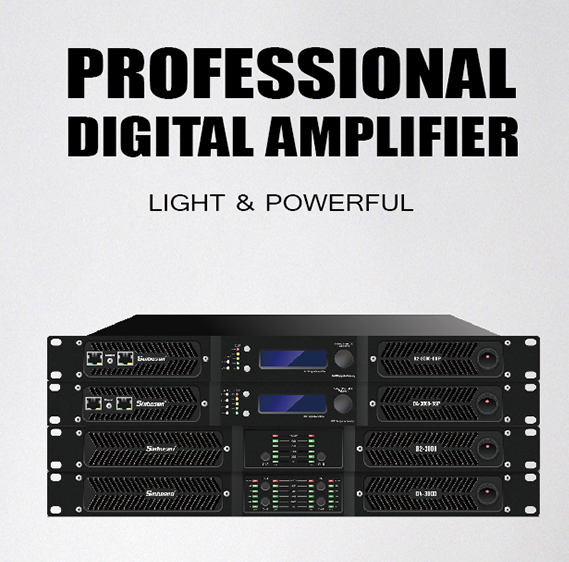 D4-1300 4-channel D-Series digital amplifier is a powerful and versatile device designed to deliver exceptional audio performance. With its unique ability to operate at a stable 2-ohm impedance, this amplifier is capable of handling demanding speaker configurations with ease. Whether you are setting up a sophisticated home audio system or powering multiple speakers in a commercial setting, the D-Series amplifier ensures excellent sound quality, reliability, and efficiency. Its advanced technology and robust design make it an ideal choice for audio enthusiasts and professionals seeking superior performance and flexibility.
*Redefining appearance with its ultra-thin 1U design, lightweight construction, and modern aesthetic
*Ensuring superior stability and delivering impeccable sound quality with high fidelity
*Promoting energy efficiency and environmental friendliness, leading to reduced operating costs
*Incorporating active PFC and soft-switching technology for optimized performance
*Operating seamlessly within a wide voltage range of 90V-270V,  making it resilient to challenging power grid environments
*Demonstrating reliable 2Ω drive capability for uninterrupted audio reproduction
*Utilizing D-PWM audio modulation technology to maximize energy efficiency by recycling non-essential power
*Featuring a power-saving standby sleep mode, ensuring extended durability and reduced energy consumption.
Model

D2-3000

D2-3500

D2-4200

D4-1300

D4-2000

D4-3000

EIAJ Test Standard, 1 kHz, 1% THD

8Ω/Stereo

2×3000W

2×3500W

2×4200W

4×1300W

4×2000W

4×3000W

4Ω/Stereo

2×5000W

2×6300W

2×7800W

4×2400W

4×3400W

4×5000W

2Ω/Stereo

2×7140W

2×7400W

2×8500W

4×3000W

4×4760W

4×6500W

8Ω/Bridge

1×10200W

1×12500W

1×15600W

2×4800W

2×6800W

2×10000W

4Ω/Bridge

1×14280W

1×14800W

1×17000W

2×6000W

2×9520W

2×13000W

Alternating Current Power Supply

Power

PFC Power

Rated power demand

100-240V ±10%, 50/60 Hz

Operation voltage

90V-270V

Power correction factor cos (φ)

>0.95 @ >500 W

Standby

47W and 0.8A

Gain,Sensitivity

32dB,35dB,38dB,41dB

Maximum Output Voltage/Current

185V/85A(370V in the BRIDGE MODE)

Power Comsumption

230V (115V in the BRIDGE MODE)

Temperature

Environment temperature

0°-45C / 32'-113*F

Cooling system

Tunnel through cooing system

Performance

Frequency Response

20 Hz - 20 kHz (

Signal-to-Noise Ratio

>110 dBA(

Crosstalk

>66 dB @1 kHz

Input Impedance

10 kΩ balanced

Total Harmonic Distortion(THD)

<0.5% from 1 W to full power

Intermodulation Distortion(IMD)

<0.5% from 1 W to full power

Damping Factor (8 ohms)

>5000 @20-200 Hz

Slew Rate

50V/μs @ 8 Ω

Front Panel

Indicator LED/per channel

One PCS Green LED: the input signal of XLR ≥ -40dB

Four pieces Green LED

display the output signal -20dB,-10dB,-5dB,-3dB ) of SPEAKON

1 piece dual LED Yellow and Red):

Protective state/Clip state/Over heat/Over load

Power Switch

Press "I" -on; Press "O'-off.

Dust-proof

Two pieces dust-proof cotton,

it can take off to cle from the bottom of front pannel

Application

Signal in-connection

4 Channel One balanced XLR(with lock) female per channel;

2 Channel One balanced XIR(with lock) female

and one belanced XLR male per channel.

Signal out-connection

One SPEAKON per channel connect to loudspeakers

Power cord

Fiked to the device, and the CSA (cross sectional area)of the cord is 3 x 2.5mm²,

and the card is 1.5 meters long.

Multiple-Functions Switch

Two Sensitivity Switches. one Mode Switch and one Clip Switch.

Structure(The size and weight depond on different series and shipping demand )

Dimensions

482 x 44 x 380mm³ / 482 x 44 x 470 mm³

Net weight

10Kg / 12kg

Packing size

580 x 580 x 119mm³ / 615 x 615 x 119mm³

Shipping weight

12Kg/14kg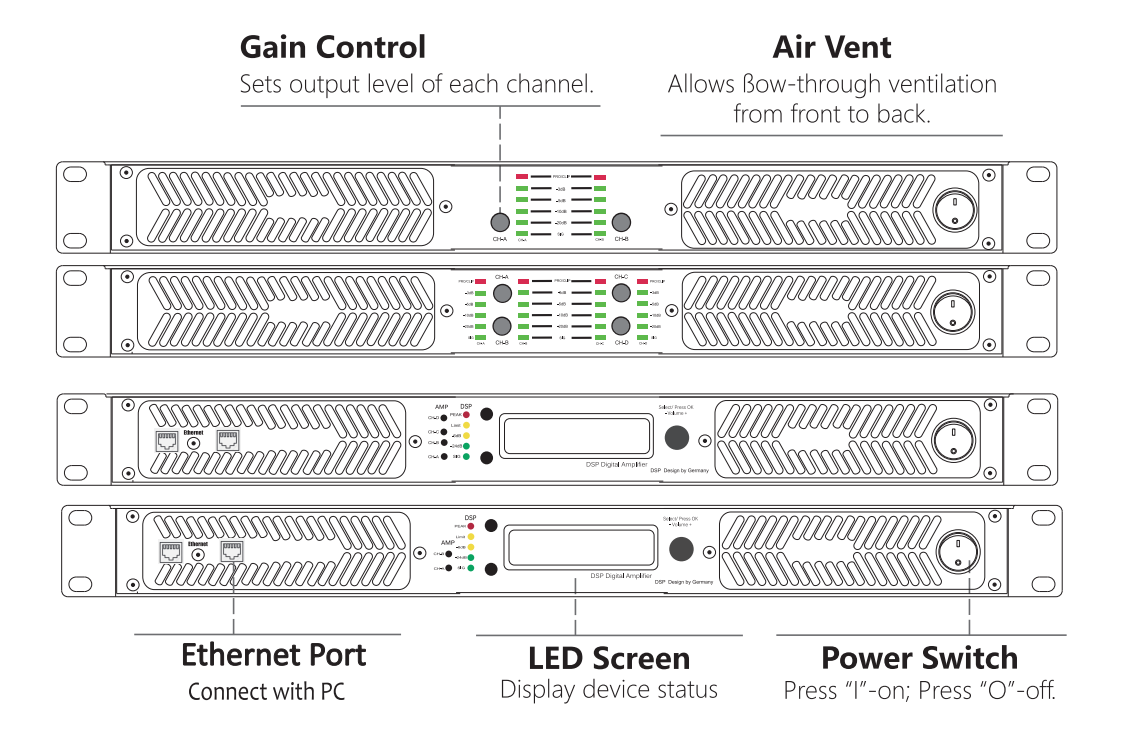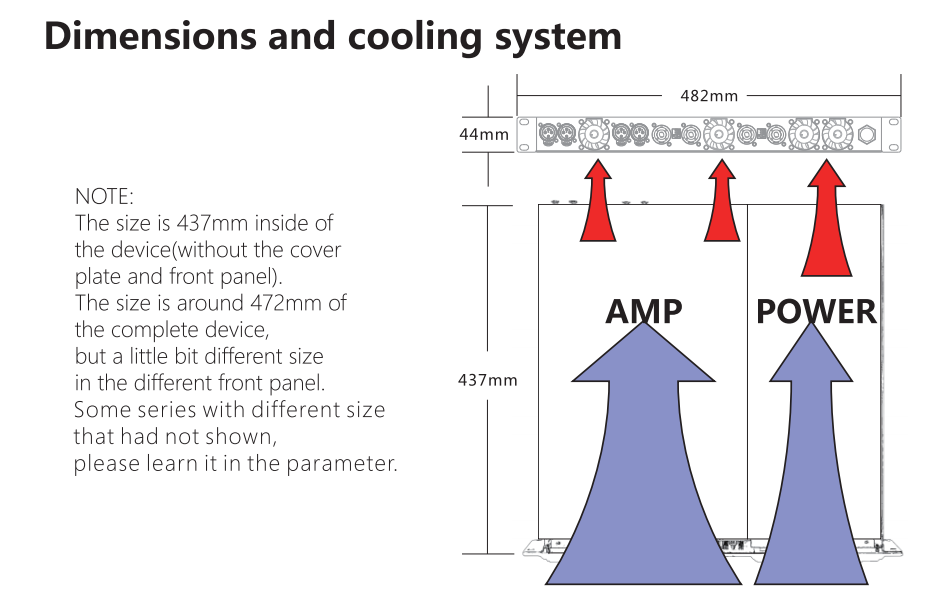 Please send your message to us
Tel:

86-020-28110037

86-13342806188
Email:
WhatsApp:
Address:

6th Floor,Building 7,Xia ji jiao,Ting gang,Hongxing Village,Shimen street,Baiyun District,Guangzhou,China
sign up for the latest catalogue, new design and promotion